Team Members
Tyler Ninomura – Script, storyboard, camera operator, editor, contractor
Jaymi Matsudaira – Actor, location leaser
Artist Statement
Abstract
A black-and-white short video that uses split screens to focus on different views of the human body from conflicting perspectives in order to critique the struggles one must ordeal to achieve society's image of the perfect person, namely, that one must destroy themselves and give up their individuality in order to try and find acceptance, and the overall failure of this notion.
A black-and-white short video that uses simple shots of a girl and her stuffed bunny and variations of light and shadow to portray the struggle, and failure, of growing up and "throwing everything away" in the name of social acceptance, as well as critiquing our reliance on our past memories to guide us in our time of need.
Description
This video tries to tell the story of a girl who in her childhood was happy, but when the burdens of school and work came crashing down on her, she found her childhood, personified in the stuffed bunny, snatched away from her. As she continues on in her life, she finds that the world becomes grayer and begins to blend together, as being covered by a fog of monotony. However, the thought and remembrance of her childhood helps her to lift the fog that had settled on her life, and allowed her to regain that same innocent happiness she had as a child. However, because she has grown up, she is no longer the same person she was when she was a child; her image, persona, identity…all have changed. While she can safely reminisce on her past, doing so offers something dark and depression; rather than building new structures, she is reinventing her past as her sole comfort.
Meaning
This video attempts to illustrate the problems with trying to conform to a social identity by discarding your past. Earlier in my life, I had tried to force away my past and, essentially, who I was, in order to try and find a place where I could find some sort of widespread acceptance. However, doing so isolated me, and I ended up just feeling more distant than before. I feel that each person comes to this realization at some point in their life, often through reminiscing on their childhood years, and helps them out of their depression by recapturing that essence. However, we also can easily rely on this sense of safety too much; the more we become attached to these memories, the further we separate ourselves from society and allow our psychosis to grow.
References
Tyler the Creator – Yonkers
This black-and-white rap music video helped to show me the power such simple contrasts can be. I was also really influenced by the ever-changing aperture changes and how those seemed to make the video that much more surreal; by making the rapper fade in and out of the image, the video super- and de-emphasized him, in the same vein as people accept him as a rapper, celebrity, etc.
Tom Morello
Although not directly related to video, Tom Morello's innovative style and process of creating and manipulating music influenced my idea to use different textures and materials to create certain visual effects i.e. ziplock bags to create a more blurred, rounded surface.
Script (rough drafts)
Scene 1
Medium shot focusing on actor, as they worriedly look left and right.
Slowly zoom out as actor starts to reach out and call for other people. They are ignored. They eventually give up and let their arms fall to their sides and their head falls as they crumple back against the wall and slowly sit down, looking defeated.
Zoom back in on the face and overlay with the next scene.
Scene 2
Left Screen:
From complete darkness, increase the light and zoom in on their closed eye.  
After awhile, the eye opens in slow motion. As the eye opens, overlay the scene with a slow motion image of a fluorescent light bulb turning on.
Right Screen:
Mirroring the above image in reverse so that the light fades to the image of the eye closing into darkness.
Scene 3 
Left Screen:
Focus on the right hand holding a razor blade, shining and reflecting in the light. Slowly zoom in on the razor blade as it starts to move up and across the body in slow motion.
Right Screen:
Close up on closed left hand, with "L O V E" written across their fingers. The hand slowly opens to reveal dirt. As the dirt begins to fall, the camera trails its motion towards the ground.
Scene 4 
Left Screen:
Close up on a hand holding a flower, the center of the flower filled with liquid. The razor blade from the previous scene begins to cut into the flower petals. As it does, the camera follows the liquid in the center as it begins to leak into the palm and down towards the ground.
Right Screen:
Medium shot of actor giving away clothing items. Pan down towards the ground and focus on the actor's shadow.
Scene 5 
Left Screen:
Close up of right half of mouth. It opens and actor begins coughing.
Right Screen:
Close up of left half of mouth. It opens and actor begins smoking.
Scene 6 
Medium shot focusing on actor, as they confidently stride into the room. They glance around smugly, hoping their new look will attract attention, but they become distressed when they continue to be ignored. They worriedly look left and right.
Slowly zoom out as actor starts to reach out and call for other people. They are ignored. They eventually give up and let their arms fall to their sides and their head falls as they crumple back against the wall and slowly sit down, looking defeated.
Scene 1
Medium shot focusing on actor, as they worriedly look left and right.
Slowly zoom out as actor starts to reach out for reflection in mirror.
Scene 2
Medium shot as the actor eventually gives up and lets their arms fall to their sides and their head fall as they crumple back against the wall and slowly sit down in the fetal position, looking defeated. Widen aperture so that the actor fades into the wall.
Scene 3
Long shot of the Quad. Zoom into actor and narrow aperture as they begin to descend the stairs.
Scene 4
Actor walks on the path until they notice a flower lying on the ground. Narrow aperture so the focus is on the flower. Zoom in for a medium shot as the actor bends over to pick it up.
Scene 5 
Close up on hand picking up the flower.
Scene 6
Close up on hand holding the flower as the actor gets stands back up. Actor gently holds flower.
Zoom out to a medium shot of the actor, narrowing the focus on another person in the background. Background person bumps into actor in slow motion. Actor shows surprise and starts to fall over.
Scene 7 
Camera falls as the actor falls. Should be a fairly shaky motion (like the camera is trying to rebalance itself).
Scene 8
Left Screen:
Close up on flower, tilt camera at a 120° angle. Narrow and widen aperture to focus in and out on the flower, now crushed under the palm of the actor's hand and spilling liquid.
Right Screen:
Medium shot of the actor to include the waist up until the hand. Tilt camera at a 120° angle. Narrow and widen aperture to focus in and out on the actor, who is now lying motionless on the ground. People are crowding around her, with their "death" finally bringing some sense of belonging.
Script (final)
Scene 1
Medium shot focusing on actor, as they clutch their favorite stuffed animal. They continue to play around with it as the camera circles from left to right. Once the camera reaches as far right as possible, fade to darkness.
Scene 2
Cut from black and fade into the same scene, but this time the girl is holding a stack of homework and a pen. She looks around for the familiar face of her stuffed animal, but gives up after awhile. She reluctantly beings to scribble on her homework before throwing everything in the air, dropping her head in despair.
Scene 3
The girl now sits at her computer, working on a paper. She types away monotonously.
Scene 4
Same scene, but this time obscured by a plastic bag and unfocusing on the girl.
Scene 5
Same scene again, but this time, the image is almost completely obscured by bags and totally unfocused. It's difficult to make out the girl's silhouette as she throws her hands in the air in disgust.
Scene 6
Zoom out from a close shot of the girl's head, whose look of disgust changes to glee as she turns her head and sees her stuffed animal next to her. She smiles and reaches out for it, embracing it like she did in Scene 1.
Characters
Main
Physical representation of the angst of growing up/adapting to new environments
Desperate to find something to hold onto
Starts as a "child" as they become engrossed in their adult life
Freedom = Rediscovering their childhood
Storyboard
Shoot Specifics
Only one day to finish shooting
Try to s Shoot as many all scenes within the building
Shoot in the late afternoon in order to try and find a balance between natural and artificial light; acts as blend between child (natural) and adult (artificial)
Very restricted budget; cover cost of actor with small gift under $10.00 (e.g., custom-made card)
Release Forms
Bill Viola's work, Mortality of the Image, provides an interesting look at how the idea of the image has evolved over time, and captures the general human understanding of what these provide us. An intriguing combination between fiction and non-fiction, prose and script, and text and images help to highlight Viola's points, and provides the perfect "transition" for the next section. He offers a short history of the "image" before delving into deeper issues according to his understanding of what the image is now, and what features it has and always will contain.
Perhaps most intriguing to me was his discourse on "fade to black," where black acts as the penultimate example of nothingness, color, and difference. How it makes everything that much more intense, and in doing so, makes reality become a surreal and disturbing experience. Viola also notes how there are different "types" of black that lend themselves to different sources, in this article's case:
1)   "Snow"
2)   Dark Screen
3)   and Nothingness
These different aspects all serve a purpose in the general understanding of what "black" is, but most interesting of all was the "nothingness" black, where it literally is simply, and omnipotently, the complete and utter lack of light and a real personification of total emptiness. This has always intrigued me both inside and outside of the classroom; I've always been dumbfounded at the awesome power the simplicity, and ironically, complexity, the two colors black and white can put forth.
Of course, these shades of black are the keystones of video; namely, the "snow" is the black and white fuzz that litters the screen on an "empty" or disrupted channel, the dark screen is the color black represented through the screen e.g. via light, and the nothingness is the utter darkness when there is no projection i.e. perfect black. All three carry their own connotation and meaning, which should prove useful in future works, especially if our class continues to work on black-and-white films.
Overall, I thought Bill Viola's article was both interesting and informative for my understanding of digital art and video in general. The break up of the prose with another type of narrative, or even just the picture, helped to relieve the sense of endlessness like the first work we read. These excerpts, though, didn't just seem "thrown in," but served a purpose or provided further insight into the topic at hand. This change of learning perspective and style helped me to gain a better grasp of the material, and, especially concerning the last couple of pages, focused my attention solely on the article as it provided a detailed analysis of something I'm interested in using an abstract and non-prose method.
This article offers an interesting insight into analyzing, or as Monaco puts it, "reading" a film. After an extensive history of art and society's perception of the medium, Monaco culminates in explaining the relevance of this backdrop for new age recording media, most importantly, film and video. For Monaco, film acts as our current penultimate form of artistic expression, especially when combined fruitfully with music, the old age abstraction example used within the first half of the chapter, while at the same time differentiating itself completely and utterly from its associates e.g., stage theater, architecture.
The chapter's analysis of film, and what constitutes a good film, seems to focus on learning the past history of art as a whole in order to gain a better understanding of what has yet to be explored, or at the very least, has yet to be experienced to your ideological specifications. This will prove invaluable to our class's involvement in digital video media; Monaco's article teaches us to try and use as much research as possible to create a work that not only hints at a complete understanding of the video medium as a historical entity, but the expansion of these ideas and concepts to drive innovation and imagination in the field. In other words, both technique and thought process will acts as integral elements in our assignment composition and production.
However, I'm not sure I agree with his assessment of art being comprised by tropes. While this is certainly true, current popular cultural pieces have become incredibly repetitious in their composition and reception. Pop music, for example, has hardly evolved through tropes, but rather societal acceptance and eagerness for more mass produced material reminiscent of similar works. This, of course, isn't to say that artistic tropes aren't relevant in conceptualizing art, but I argue that it is merely a small facet of what is important in understanding art, and as a result, film, as a whole. Rather, one should focus their studies on understanding what drove the artists to their signature styles; social construction and analysis will act as the stepping stones we need to tread on to reach our own trope. Should we focus solely on other artists' tropes and styles, we endanger ourselves to become predisposed to eerily similar systems, not only furthering the corporate enterprise for mass production but, in fact, sacrificing our own innovation by attempting to compare our works to those of these masters.
It remains a fact that tropes are an integral subject of art, though, and thus cannot be ignored. Here, I feel, Monaco should have focused on finding a balance between artistic and audience appreciation and understanding. He hinted at such creator-consumer relationships within the chapter, but never seemed to truly delve into its intricacies and how this balance helps both sides to find compliance and social digestion of the work on a scale that can only be defined through this connection.
Overall, I liked the article, and I feel that Monaco did an excellent job at explaining the importance of studying art history in order to understand modern contemporary works.
In order for this project to come to fruition, a number of advancements in technology must be altered or invented. The list of technological devices is as follows:
·      Infrared emissivity measurement
·      Brain wave capture and manipulation via electric fields
·      Artificial sight and auditory manipulation
There is already a good deal of advancements in these fields. Research has been documented by a number of scholars that should help to make these advancements a reality.
Infrared emissivity measurement
Infrared technology already exists that can measure the core temperatures of certain bodies, and to a fairly accurate degree. However, a number of scholars have noted one major problem with infrared technology: the emissivity of the target material has to be known in order to get an accurate reading. This generally has to do with the inaccuracies pertaining to black body radiation and the fact that the human form is not a perfect black body. Since the human form reflects light, it has a black body emissivity less than 1 (where 1 is equivalent to a full black body). However, despite the discrepancies that occur, current infrared imaging can map a human body to a relatively accurate degree.
However, if time is any indication, the accuracy of these readings should increase as more technological developments are invented (perhaps something that suppresses light within a potential full black body in order to measure a completely accurate reading).
Using this improved infrared measurement, I can figure out the core temperatures of everything within the electric field. By discerning the temperatures of certain objects, I can then send out an electric pulse that will activate or negate certain areas of the brain in order to get the desired effect.
Another important feature of infrared is that, while it measures reflected heat, it will be precise in a way that other objects do not radiate at the same frequency. In other words, the only black bodies within the space will be human audience members who visit or walk through the exhibit. It also means that when an audience member look at their reflection in the mirror, they will see a reflection of themselves without the static silhouette.
Sources: 
http://www.omega.com/techref/iredtempmeasur.html
http://www.pyrometer.com/pyro_technology.html
Brain wave control
Without any prior knowledge, this sort of technology may seem like something in the distant future. However, there have already been studies that have shown that certain sections of the brain can be manipulated using weak electric fields. By stimulating the neurons to highly sensitive areas of the brain with low frequency fields, researchers have found that they can control, to a degree, how these neuron fields fire. Using this, more research in the field should yield more intensive results, especially if combined with bioengineering research in brain-computer interactions.
Using this form of brain and neuron control, I can essentially turn on or manipulate what people see and hear.
Sources: 
http://www.jneurosci.org/cgi/content/full/23/19/7255
Artificial sight and auditory manipulation
There are documented cases where researchers have tried to use technology to help blind patients see again. In each of these, there is an implant and some sort of connection to a camera to provide the image. While many of these cases are still not exactly the same as normal 20/20 vision, it not only allows people to see in a way they couldn't before, but shows that vision can be manipulated from directly within the brain. Utilizing this belief, when an audience member enters the project's vicinity, the electric field surrounding the area should block out their vision and turn anything within three degrees fahrenheit into a static silhouette.
Hearing can be neutralized in the same way as vision, and may in fact be easier. Rather than stimulating the neurons that provide auditory cues to the brain, the electric fields will temporarily slow down those neurons, essentially muting the auditory signals. By negating the sounds and voices within the project's field, a further sense of confusion will be created, alongside the fact that you can no longer distinguish between people through their voice.
Sources: 
http://www.wired.com/wired/archive/10.09/vision.html
———————————————————————————————————
Navigation:
Technological Research and Development
2-5 years: installation of computer chip in mammals
5-10 years: installation of computer chip in human brain to supplement memory
5 years: research on black bodies leads to increased infrared reading accuracy
20 years: computer chip installation used to heighten senses (based off of already created installations); cheap to produce and install
20-40 years: accurate infrared emission readings of core temperature; accurate through other substances; measures core temperatures of any and all potential black bodies
20-45 years: further research using electromagnetic fields; can use higher powered fields
50 years: control brain waves with electromagnetic fields
70 years: capture and manipulate brain waves at instant speed; "telekinesis" style
90 years: installation of programs/memory etc. through electromagnetic waves
100 years: Installation of project, culmination of research and development
High Road Theory
Throughout these one hundred years, humanity should get closer and closer to achieving the "high road" sociologists theorize we will reach.
0-20 years: first US woman president
0-40 years: technology boom increases amount of jobs; less homeless, higher incomes
0-70 years: Intermarriage/mixing; humanity reaches a more homogenous racial balance
——————————————————————————————————-
Navigation:
One of my main motivations was Altamira by Shawn Brixey. His combination of the visual and the non-diegetic, the real and the celestial, and man and machine was one of the turning points of my project. Since then, I've had this planned project in my mind. Just as Brixey stimulated phosphenes in order to create his works, I plan on manipulating brain waves in an attempt to accomplish a similar goal.
Another artist that influenced my thought process is Christopher Nolan, especially with his most recent work, Inception. The idea that we can travel within the mind in order to draw out and stimulate ideas, or in my case, block out certain audio and visual cues, was something that hadn't quite occurred to me beforehand. The surrealism within the film also invoked ideas of how I can make reality a version of this dream-like film. In fact, the shattering mirror in the following scene made me contemplate the possibilities of what I could do with a mirror. Ever since, I've been fascinated by the mirror, and what sorts of emotions and implications it brings forth.
Inception Mirror Scene: http://www.youtube.com/watch?v=iOengw_Hyhk
Salvador Dali's works have been an inspiration to me. Using only a two-dimensional form, Dali could successfully bring a painting to life, no matter how preposterous the image or concept is. It's this integration of surrealism and reality that I feel allows an artist to make the impossible plausible.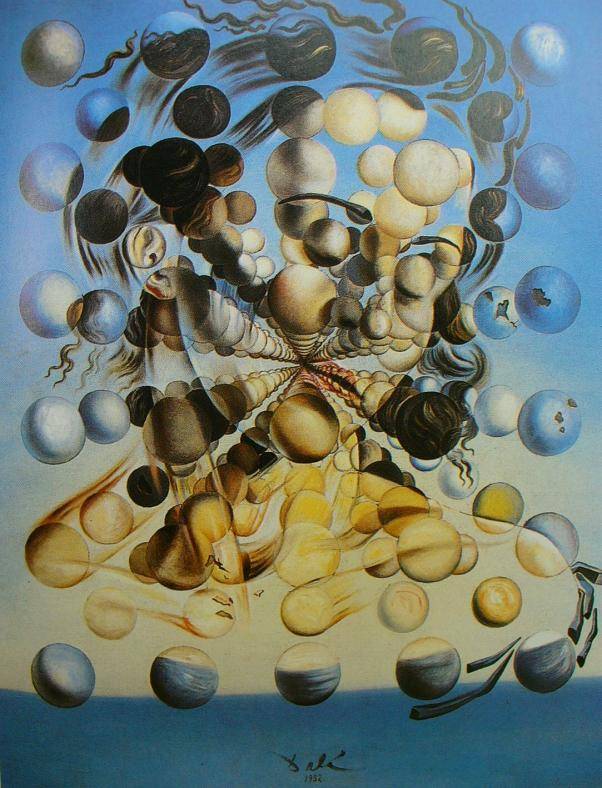 Even beyond that, the entirety of first-person shooter video games and point-of-view cinematography i.e. the Blair WItch Project helped me to see the power that acting, not as just a voyeur, but as the character in question, makes the experience all the more powerful and relatable. Whether it's mowing down civilians as a terrorist in Call of Duty: Modern Warfare II or trying to run away from an evil witch, the audience becomes all the more involved in the medium, essentially integrating with the game or film.
COD: MW II Terrorist Gameplay: http://www.youtube.com/watch?v=vNFpjLqemMM
Blair Witch Project Ending: http://www.youtube.com/watch?v=cMQQpmm5u3w
All three of these artists and artistic mediums have strived to bridge the gap between the audience and the work itself. In a way, the audience is being immersed within the work, but at the same time, there is a sense of separation, a feeling that this is just a work of art. As Paul Berget pointed out in lecture, there is currently no way to push past the limits of the border, or of the screen. While there may be some simple diegetic ambience within a piece, very few have truly captured the essence of total integration. I hope to try and completely envelop the audience through my work by depriving them of senses they rely on everyday to try and challenge them to make sense of the world when it is shrouded in black and white.
———————————————————————————————————
Navigation: